All up to date information about the organization of your studies and the current offer of available e-learning tools and options can be found HERE. The information is continuously updated and supplemented as it becomes available to us, in accordance with the statements provided by the Faculty´s administration.

For more information we recommend to also keep monitoring the
website of LF1 UK
, which is continuously updated, as well as the
website of Charles University
.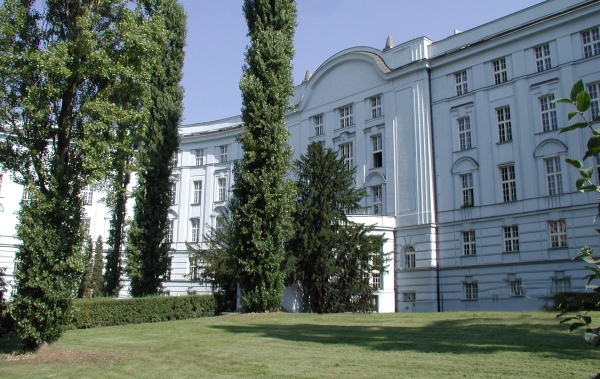 Address:

128 00 Prague
Studničkova 2
Phone No. (secretary):
224 968 685
E-mail (secretary):
alena.gajdosova@lf1.cuni.cz
Department website under the General University Hospital is available here.
Institute of Pathology 1st Faculty of Medicine Charles University and General University Hospital is a complex institution in the field of pathology. Diagnostic services are provided for all departments of the University Hospital and many other institutions: biopsy examinations including intraoperative and consulting biopsies, cytology and autopsy examinations using special methods: histochemistry, immunohistochemistry, electron microscopy, morphometry and molecular biology.
Biopsy and cytology tests represent an irreplaceable part of the diagnostic and therapeutic process. The specialization of the Institute reflects profiling of the clinics of the General University Hospital - especially in the field of oncology, gynecopathology, hematopathology, gastroenterology, uropathology, nephropathology, neonatal pathology, endocrinology, and osteopathology. Institute scientists perform yearly biopsy examinations for about 24,000 patients and cytology investigations for about 6,000 patients.
As a result of the New Civil Code (NCC), valid since 1 January 2014, there was a relatively significant drop in the number of autopsies performed. The NCC presupposes an automatic disapproval of the patient for an autopsy and its implementation now requires written consent. At present only the autopsies determined as compulsory overrides on The Law on Health Services (e.g. deaths in pregnancy, surgery, transplantation, children under 18 years) are conducted. Reducing the number of autopsies, however, can have far-reaching consequences with regard to quality of medical care, because clinicians miss valuable feedback. It may have an impact with regard to missing or insufficient data for forensic and sanitary-epidemiological purposes, as well as for family members, especially in cases of unrecognized hereditary diseases, and not least on the education of medical students and young pathologists. In teaching pathology, students of general medicine are forced to substitute actual participation in autopsies with photographic documentation. Young pathologists preparing for their board examination therefore lack useful and practical experience.
Molecular pathology investigation of predictive markers in particular in solid tumours, e.g. breast, colorectal and lung cancer, represent more and more a prerequisite for the indication of targeted therapy. Most often mutational analysis of defined gene areas, using methods based on PCR or monitoring cytogenetic abnormalities by FISH, are performed. Other molecular biology examinations are conducted to clarify the diagnosis in cases where histomorphometric and immunohistochemical methods prove insufficient.
For an overview of available tests, the list of immunohistochemical antibodies and methods carried out in the Laboratory of Molecular Pathology of our Institute, please visit the General teaching Hospital website.

Current research projects at the Institute focus mainly on issues of oncology, pathology of the urogenital tract, hematopathology and breast. Cancer research laboratories operate here as well, details in Czech available at http://pau.lf1.cuni.cz/vyzkumne-laboratore-nadoru
Educational activity is focused on teaching undergraduate students and master's programs, General Dentistry in Czech and English and to teach students in bachelor courses (Addictology, Ergotherapy, Physiotherapy, General Nursing, and Medical Technology). Postgraduate training within doctoral programs (Ph.D.) is also provided. The Institute is accredited for postgraduate training of pathologists in this country.